A new report by the professional association for Australia's tech sector has analysed millions of online job postings since 2016 to find the jobs most in-demand in the country.
The ACS report found tech jobs recorded the second highest growth in Australia in the last five years at 14 per cent, second only to healthcare (21 per cent).
Software developer / engineers top the list with 31,725 job postings in 2021 alone, almost twice the number of postings as the second largest occupation, which is computer systems engineer/ architect. This is followed by data analysts, operations analysts, computer support specialists, and systems analyst.
Other notable occupations in the top 20 tech jobs in-demand in Australia include IT project manager, cybersecurity analyst, UI/UX developer, technology consultant, and computer programmer.
Database architect, data warehousing specialist, and data scientist are leading the pack as the fastest growing tech occupations, recording over 100 per cent growth in the past five years.
Other key findings are that most IT roles are located in NSW, Victoria, and Canberra, indicating an uneven distribution of tech jobs around the country. Additionally, there's growing emphasis on soft skills like communication and teamwork as much as technical skills.
"The Guide to the IT Professions report highlights the great opportunities in the technology sector and just how strong the competition for talent now is," said ACS Vice-President, Jo Dalvean.
"For employers, the report shows how important it is to establish alternative pathways into the industry beyond IT related degrees. Some of the sector's best talent doesn't come through traditional career progression."
Ms Dalvean added, "For technology students and workers, the report also shows the potential in emerging technologies. Regardless of what you're currently studying or the field you're qualified in, there are great career opportunities in the coming years."
Big salaries
Unsurprisingly, occupations in this sector are particularly high paid, well above the national average salary of $72,000.
ICT managers command the highest salary at nearly $180,000, well over 200 per cent of the national average.
The report found the average salary for a software and applications programmer stands at around $117,000 while multimedia specialists and web developers pocket around $96,000 annually. The only occupation not above the national average is ICT support technicians at around $71,000.
ALSO READ: Tech Tuesday: New-age hardware and blockchain tools that your business can use to optimise its operations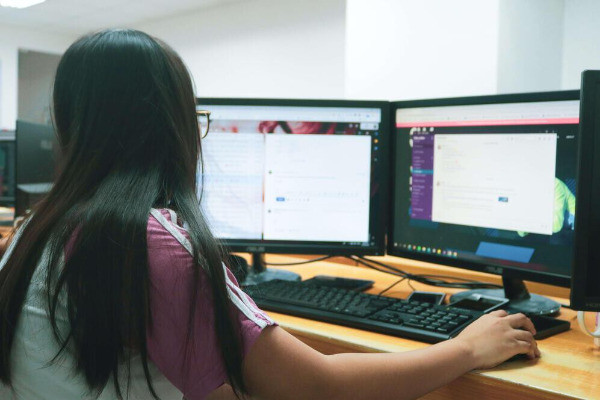 Most requested skills
While employers are increasingly demanding soft skills like communication, problem-solving, and collaboration, the most requested specialist skill in tech remains SQL (16 per cent) followed by Java (12 per cent) and DevOps (12 per cent). Other specialised skills in demand are Python (10 per cent), technical support (8 per cent), and Linux (7 per cent).
The report also found several of the fastest growing skills in tech right now relate to cloud computing and storage, such as Amazon Web Services (AWS) and Microsoft Azure.
Interestingly, employer demands in Australia rank higher than overseas counterparts as 97 per cent of ads in Australia required tertiary qualifications. In comparison, employers in the UK requested a Bachelor's degree or higher in 90 per cent of postings and 86 per cent in the US.
Industry analysis
At over 26 per cent, the largest share of IT roles are found within the professional, scientific, and technical services industry.
The second largest industry is public administration and safety (17.3 per cent) and financial and insurance services (13.1 per cent).
Cybersecurity continues to grow in importance. In 2021, there were almost twice as many cybersecurity postings as there were five years prior. The top employers for these roles remain governments and government agencies along with consulting firms (such as Deloitte and Accenture), banks (Commonwealth Bank of Australia and Macquarie Group) in the top 10 list.
Click here for the full report.
Keep up to date with our stories on LinkedIn, Twitter, Facebook and Instagram.
ALSO READ: Tech Tuesday: Our top selection of tools for analysing business data in 2022