Montrealers, on average, earn significantly less than Torontonians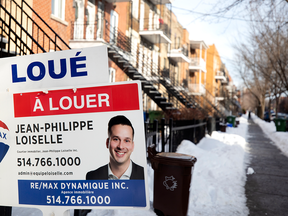 Article content
The Canadian residential real estate market last year was marked by contrasting trends: housing sales and prices declined, but demand for rental housing rose and rents rapidly increased across the country, with even steeper increases in more desirable cities and communities, according to Canada Mortgage and Housing Corp. (CMHC) data.
Article content
Simply put, rental market dynamics are not uniform, with shelter costs for renter households relatively low in many Quebec cities, but much higher in the suburbs near Toronto, according to a recent report using 2021 census data by Point2.
Article content
Other housing market surveys also consistently show that cities in Quebec have some of the lowest rents in Canada. This has led some to advise those struggling with higher rents to relocate to places with cheaper rents.
But before you start planning to relocate to take advantage of cheaper rental abodes, one must ponder why rents are lower in Quebec. Some suggest renters there have more protections, such as stricter rent control and other renter-supportive regulations. Others say distinct preferences and tastes have resulted in a higher proportion of rental households in Quebec than in the rest of Canada.
Article content
The most apparent differentiator we found, however, was income.
Montrealers, on average, earn significantly less than Torontonians. The average after-tax household income in Montreal was $69,600 in 2020 compared to $96,000 in Toronto, according to the latest census.
These income disparities account for some of the rent differences between the two cities. And it's not just the rents: housing prices are also significantly lower in Montreal compared to Toronto and other cities with higher incomes.
Oakville, Ont., stood out in the Point2 report as being the most expensive city for renter households. They paid, on average, $2,146 each month in shelter costs (rents and other related expenses). In comparison, renters in Trois-Rivières, Que., paid just $676.
Article content
If the incomes in the two cities were similar, we would also recommend Ontarians look eastward. But incomes are drastically different. The average after-tax household income in Oakville is $136,600, more than twice that in Trois-Rivières.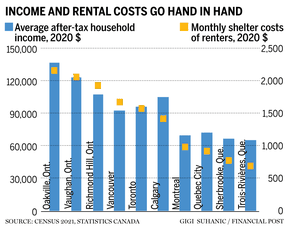 The difference in incomes is just the beginning. A comparison of cities in Quebec and Ontario reveals noticeable differences in demographics and housing stock. For example, housing in Oakville is, on average, much larger in size than in Montreal. Consider that 31 per cent of the dwellings in Montreal have just one bedroom compared to less than seven per cent in Oakville.
Similarly, 46 per cent of the housing stock in Oakville had four or more bedrooms compared to just eight per cent in Montreal. Even in the City of Toronto, 17 per cent of the dwellings boasted four or more bedrooms.
Article content
Housing typology is another differentiator that helps explain the differences in dwelling sizes. A mere seven per cent of housing in Montreal is of the single-family, detached type compared to 59 per cent in Oakville and 23 per cent in Toronto.
Dwellings in Quebec are relatively older than those in Ontario or Alberta, too: 77 per cent of the dwellings in Montreal were built before 1991, while more than half of the housing stock in Oakville and Calgary did not even exist in 1990.
The household structures also differ. More than two in five households in Montreal comprised single-person households compared to less than one in five in Oakville and one in three in Toronto.
So there you have it. Cheaper rents are where single-earner households earn significantly less on average and live in smaller-sized homes. Yet, many rental housing advocates ignore all other differences and attribute rent differences to rent control and other regulations.
Article content
Causality is a much bigger cross to bear in empirical analysis. But if one believes that rent controls and other housing restrictions are responsible for lower rents, could the same also contribute to the smaller dwelling sizes and lack of sufficient newer family-oriented dwellings?
Housing costs are an essential determinant of where people live. Even more critical is where one can find a job or career that offers opportunities for growth and stability. Places that provide such growth opportunities and family-friendly housing are often more expensive.
Article content
The responsibility lies with government to provide non-market housing options for those whose earnings do not allow for market rents. Forcing private landlords to subsidize the entire housing rental market is an attempt to pass on governmental responsibilities to others. Unfortunately, abdicating the state's obligations has not worked in the past and is unlikely to work in the future.
Murtaza Haider is a professor of real estate management and director of the Urban Analytics Institute at Toronto Metropolitan University. Stephen Moranis is a real estate industry veteran. They can be reached at the Haider-Moranis Bulletin website, www.hmbulletin.com.