Slowdown in housing market might be turning around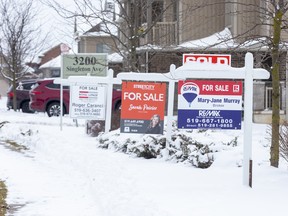 Article content
New figures released by the Canadian Real Estate Association (CREA) on March 15 show that the slowdown in Canada's housing market might be turning around with home sales increasing 2.3 per cent month over month in February.
Article content
The agency, which represents more than 100,000 realtors nationwide, reported that the number of homes sold in February decreased by 40 per cent from the record-breaking February experienced a year earlier — just before the Bank of Canada began its interest rate tightening cycle.
Article content
New listings also declined 7.9 per cent month over month in February, and the Home Price Index (HPI) ticked down by 1.1 per cent to $704,300.
Traditionally, February is not a busy month for home sales or new listings, but it is a month when buyers are just beginning to explore the market. According to industry watchers, this year's traditionally busy spring housing market is among the most anticipated in recent history.
"February's data contained the potential of a more robust market to come, but to repeat the bottom line from last month, we won't know what the 2023 market has in store until the spring," Jill Oudil, Chair of CREA said in the report. "While we're not seeing it in the sales or listings data just yet, I would expect homeowners are getting properties ready for the market and prospective buyers are getting mortgage pre-approvals."
Article content

As CREA's Senior Economist explains, there are parallels between 2019 and the forecast for spring 2023.
"The similarities between 2023 and the recovery year of 2019 continued to emerge in February, with sales up, the market tightening, and month-over-month price declines getting smaller," CREA's Shaun Cathcart said in the report. "But the biggest similarity was a sharp drop in seasonally adjusted new listings. Future sellers, many of whom will also be buyers, are likely biding their time until the optimum time to list and buy something else. For most, that's in the spring. Will buyers jump off the fence to snap homes up in 2023 once they finally start to hit the market? They did in 2019."
While there is plenty of optimism for the spring housing market, the shortage of inventory cannot be ignored. Christopher Alexander, president of RE/MAX Canada said the decline in new listings over February is the most concerning detail to come out of CREA's report.
Article content
"We need more product," the RE/MAX president said in an interview. "One concerning thing about the CREA report is that inventory went down again month over month."
One factor that could bring some relief on the supply front — albeit with other potential ramifications — is that homeowners hold a tredemendous amount of real estate debt.
Although lenders are doing their due diligence to help keep their clients in their homes, interest rate hikes have left many with more debt than they can handle, raising the possibility of an increase in distressed home sales.
Article content
But those alone would not be enough to satisfy the demand, Alexander said.
The market would still need a rush of new listing from would-be sellers who have been sitting on the sidelines, something some economists have predicted will transpire.
"Even if we get what economists have predicted … I think it's just going to be enough to create a balance where some homes will sell at asking, some will sell below and some will sell over," Alexander said. "Balance would be really good for homeowners right now who would consider moving but feel trapped because there's just not enough properties that meet their criteria — and obviously, interest rates are higher and so it's a lot more expensive to buy what you want."
• Email: shcampbell@postmedia.com