Article content
Canadian home sales declined by three per cent on a month-over-month basis to start the year to post their worst January since 2009, according to data from the Canadian Real Estate Association.
Article content
CREA's monthly housing statistics report, released Feb. 15, found actual (not seasonally adjusted) monthly sales in January were down 37.1 per cent from the year before.
Article content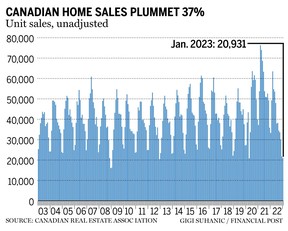 Prices, meanwhile, also declined in January, with the MLS Home Price Index down by 1.9 per cent from December and 12.6 per cent from the year before.
"Early 2023 feels a lot like 2019, where after a year in which it became much harder to qualify for a mortgage, everyone was wondering if the market would pick up in the spring," Shaun Cathcart, CREA's senior economist said in a release.
"In 2019 the market started off slow, as there wasn't much to buy. It took off once spring listings started to come out. With the Bank of Canada increasingly signalling that rates are now at the top, it's possible the spring market this year could also surprise, particularly in areas where prices have been stable or are now stabilizing."
Article content
While January isn't typically a busy month for home sales due to cooler weather, the weaker figures were in line with those of recent months.
"No real big change from the last six months. We've been hovering around that kind of level," Cathcart said in an interview.
Cathcart said that thought home sales are at the lowest level since the Financial Crisis, the market does not compare to 2009 at all.
"It's just the lowest since then. So, it's technically the lowest but it's a lot closer to average than it is to 14 years ago."
Not only were sales down overall in January but new home listings remained historically low despite a 3.3 per cent uptick from January, CREA said in the report.
"You can't buy what isn't for sale," Cathcart said of the lack of listings.

Article content
"Let's wait until March or April when people start to actually list their homes in the spring to see how buyers react," the economist said. "It's very difficult to gauge demand right now by counting the sales numbers because there's not a lot out there for buyers, even if they wanted to."
In a note to Bank of Montreal clients, senior economist Sal Guatieri, said the Bank of Canada's move to signal a pause in interest rate hikes may have arrived too late in the month to have a significant impact on January's CREA results, but it may serve to stabilize the market moving forward.
"Heading into the important spring season, we'll see who is more eager to make a deal, sellers or buyers; our betting is on the former given still-poor affordability."
• Email: shcampbell@postmedia.com