TRREB also predicts prices will rise this year, but will still be lower than in 2022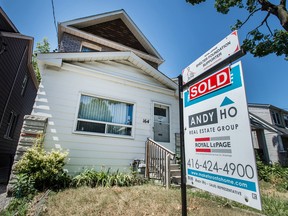 Article content
Home sales in the Greater Toronto Area (GTA) will decline to their lowest level since 2001 this year despite a rebound in the second half, according to annual forecast from the Toronto Regional Real Estate Board (TRREB).
Article content
The group's market outlook, released on Feb. 10, said home sales will decrease to a total of 70,000 sales in 2023, down from 75,140 in 2022 and 121,712 in 2021. The total would be the lowest tracked on the TRREB MLS system since 2001, when 67,612 sales were recorded, according to historical data available on the group's website.
Article content
The outlook also predicts the average selling price will reach $1,140,000 for all home types combined, up from current levels, but four per cent lower than the average price of $1,189,912 in 2022.
While TREBB's chief market analyst, Jason Mercer, said the first half of the year will feel similar to the fall of 2022 due to the lingering effects of higher borrowing costs and related economic uncertainty, the second half will see an increase in demand for ownership, thanks to lower fixed mortgage rates, a relatively resilient labour market and record immigration.
Article content
"It will be a year of two halves in 2023," Mercer said in a press release accompanying the report, adding that the flat-lining of sales and average selling prices suggests "we've reached a bit of a bottom in the market."
Mercer also said that the expectation that borrowing costs will remain the same, or even trend lower, compared to the previous year, will help with affordability, especially for homebuyers who have been sitting on the sidelines.
TREBB's report cites an Ipsos study showing a slight increase of two per cent in overall buying intentions compared to last year. Ipsos said 28 per cent of respondents indicated they will consider purchasing a home in 2023. As for first-time homebuyers, its polling said almost half of the respondents said they would likely buy a home, up seven per cent from its previous survey.
Article content
Those likely to list their townhomes this year were also up compared to last year, while listing intentions for condominium apartments and semi-detached houses were similar to 2022, it said. Detached home listings, on the other hand, appear to be trending lower.
As for supply, the annual review said there were 152,873 new listings in 2022, down 8.2 per cent from the prior year.
New home sales, meanwhile, which began in 2022 at a near record pace, are expected to conclude the year with one of the lowest yearly totals on record, it said.
Article content
Total new homes sales shrank by 44 per cent for the first 11 months of 2022 compared to a year earlier, dampened by cumulative interest rate increases and elevated inflation.
Single-family new home sales were at unprecedented lows of July through September 2022, with annual sales at their second lowest level ever. Citing a study by Altus Group, TREBB's report said single-family sales were a drag on total sales with a 67 per cent decline due to supply shortages and affordability issues, which it expects to remain factors in 2023.
Last year, Toronto topped the home sales in the GTA with 27,769 sales, while Peel Region followed with 14,167 sales.
• Email: dpaglinawan@postmedia.com | Twitter: denisepglnwn