'The disinflationary process has started,' says Jerome Powell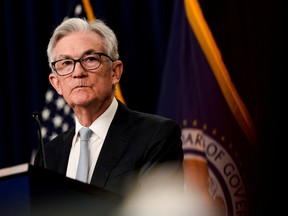 Article content
U.S. Federal Reserve chair Jerome Powell only had to say one word in his Feb. 1 news conference to raise hopes that mortgage rates in Canada may be heading lower.
Article content
"We can now say, I think for the first time, that the disinflationary process has started," Powell said following the Fed's decision to hike its benchmark rate by 25 basis points to 4.75 per cent on Wednesday afternoon.
Article content
The key word — "disinflation" — was all markets needed. Stocks soared and bond yields tumbled as markets around the world anticipated that the Fed's hiking cycle would end sooner rather than later, and might even kick into reverse, as the inflationary threat abates.
Article content
Mortgage strategist Robert McLister noted in a Mortgage Logic newsletter Thursday morning that Canadian five-year yields — a market closely traced in the setting of mortgage rates — quickly shed 10 basis points after Powell's comments.
Article content
"That's exactly what Canada's mortgage market needs if there's any hope of lower fixed rates by spring," McLister wrote.
While he said it was too soon to see Wednesday's decline show up in mortgages, he noted that sliding bond yields over the past three months have already been tugging down five-year fixed rates.
McLister said it would likely take longer than usual for those falling yields to work their way into mortgage rates given the current macroeconomic environment, as banks pocket some of the improvement to buttress against downside risks.
"As we head into recession, lenders will keep their spreads wider than usual to account for perceived risk and other factors," he said by email. "They may have to deal with higher default rates, less liquidity in funding markets, and more rate volatility (which increases hedging costs)."
Article content
He said short-term fixed rates will edge down as the Bank of Canada comes closer to cutting rates, while variable rates won't drop "materially" until a cut becomes official.
And he added that there is no doubt markets expect rates to come down.
"If you looked at the bond market, specifically things like overnight index swaps, forward rates and futures, there's no question that financial markets expect lower rates by the end of this year," he said.
"As we speak, markets expect five-year bond yields — a key driver of five-year fixed rates — to be 42 bps (basis points) lower in 12 months."
The Federal Reserve chair's comments were interpreted as dovish even though he also indicated more rate increases were coming, and that cuts were unlikely this year.
Last week, the Bank of Canada lifted its key policy rate 25 basis points to 4.5 per cent, but signalled that it would pause future hikes to give higher rates a chance to percolate through the economy.
• Email: shcampbell@postmedia.com