Start the process as soon as your youngsters begin asking you to buy them things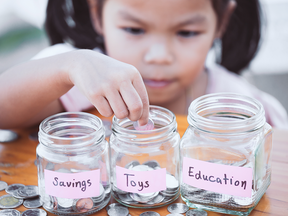 Reviews and recommendations are unbiased and products are independently selected. Postmedia may earn an affiliate commission from purchases made through links on this page.
Article content
It has become crucial in the current climate of rising costs to learn savvy money skills to balance our budgets and not rely on credit to cover any shortfall. But it's not just a good idea for us to learn how to better manage our money, it's just as important to teach our kids.
Article content
You can start this process as soon as your kids start asking you to buy them things. This means they're ready to start learning about money, but before they can spend, they must have a way of earning it. An allowance is often the first way kids receive money. Decide if you want to link it to age-appropriate chores or give it strictly as a learning tool. I found that linking my kids' allowance to chores took a lot of tracking before I could pay them.
Article content
Depending on what you can afford and what your child is expected to do with their allowance, a weekly 50 cents to $1 per year of age is a good rule of thumb. This means your four-year-old would get $4/week and your 10-year-old $10/week.
Then choose how you want to administer the allowance.
Article content
It will be more of a visual lesson to start out by giving them cash to put in their piggy banks. As they get older and can grasp the concept of electronic banking, you may want to switch to weekly automatic transfers to their own account, or one that is joint with you.
Next, encourage your child to come up with a goal for something they would like to buy. This is a good way to teach them about savings and delayed gratification, which is worth mastering before they're old enough to have access to credit.
For example, let's say the toy they want is $29.99 plus tax. In Manitoba, this comes to $33.59. Help them calculate how many weeks it will take for them to meet that goal given the amount they receive from their weekly paydays. Consider creating a savings goal poster to help them visualize their progress.
Article content
As kids get older and more interested in spending, teach them the time value of money. This aligns how long someone must work in order to earn the money to buy an item.
We used this tactic with our own kids whenever they wanted a new item that was not a necessity. It helped them understand the value of our time and that there are limitations on what we can afford. If your child thinks they should be able to buy a desired item more quickly, this process will provide a good opportunity to teach them about working extra to get a more immediate payoff.
You can facilitate this by allowing them to do extra chores to earn additional spending money. However, avoid encouraging them to think they are getting paid to do their share of helping around the house. Instead, make sure they understand the work they are doing is beyond what is regularly expected and will, therefore, result in extra cash.
Article content
Another option to help your impatient child reach their goal faster, and at the same time teach them about credit, is to lend them the money. Prior to doing so, be sure to set out the terms of the loan: how much the payments will be, when they must be made and how long your child has to repay the debt. Don't set the payment so high that they don't have any allowance left over for spending/saving each week.
For an older child, factor in a little interest to teach them about the cost of borrowing. Show your child their progress by tracking their payments until the loan is repaid. Let them know they can pay the debt off sooner if they wish, and if you are charging interest, this can teach them how doing so will reduce the total amount they have to repay.
Article content
Regularly taking your kids shopping can help them learn how to be a savvy shopper. It provides a good opportunity for them to understand how much things cost, how comparison shopping works, how to budget within a limit and the role marketing plays on their spending choices.
Share your best tips and tricks with them while they're still happy to come shopping with you, or have fun learning together how best to save up or wait for what you want to go on sale.
Above all, remember that your kids watch everything you do and learn their attitudes about money from you. Model good financial habits for them, but don't worry if you don't have it all figured out and find yourself relying on credit to supplement your income. Reach out to a not-for-profit credit counsellor for free money management advice. It's never too late to learn.
Sandra Fry is a Winnipeg-based credit counsellor at Credit Counselling Society, a non-profit organization that has helped Canadians manage debt for more than 25 years.
_____________________________________________________________
If you like this story, sign up for the FP Investor Newsletter.
_____________________________________________________________