Article content
Canadian housing starts declined 2.8 per cent to 267,443 units on a seasonally adjusted annual (SAAR) basis in August, from a downward-revised 275,158 annualized units in July, according to data released by the Canada Mortgage and Housing Corporation on Friday. The decline comes amid widespread concern about a shortage of housing supply in the country.
Article content
Urban starts fell three per cent to 246,771 in August with the rate of multi-unit urban starts down four per cent to 187,602. Urban starts of single-detached homes rose one per cent to 59,169 units.
Article content
Despite the monthly decline, the six-month trend in housing starts remained positive, with the annualized moving average ticking up to 267,309 units in August from 264,467 in July.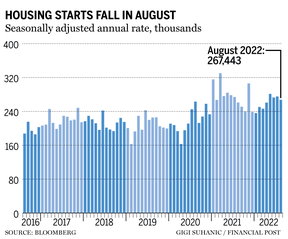 A decline in single-detached units in Vancouver was offset by higher multi-unit starts. Toronto posted strong increases across the board, while Montreal recorded a large (33 per cent) decline in multi-unit starts, resulting in the overall decline for Canada.
The August decline comes amid concern about a housing shortage in Canada. A recent report from CMHC concluded that the country would need to build 3.5 million new homes by 2030 to improve affordability, yet Canada is averaging only 200,000 to 300,000 new units per year.