Early signs that sharp housing correction may have mostly run its course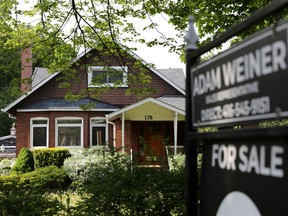 Article content
The average price of homes sold in Canada in August fell 3.9 per cent from the same month last year to $637,673 according to statistics released Thursday by the Canadian Real Estate Association, which also scaled back its forecast for price gains and sales for the remainder of the year.
Article content
Sales volumes fell by 24.7 per cent on a year-over-year basis, but edged down just one per cent from July to August, making it the smallest of six consecutive month-over-month declines in sales volumes, the group's data showed.
Article content
It was close to an even split between the number of markets in which month-over-month sales were up and those in which sales were down. Gains were led by the Greater Toronto Area (GTA) and a large regional mix of other Ontario markets. These were offset by declines in Greater Vancouver, Calgary, Edmonton, Winnipeg and Halifax-Dartmouth.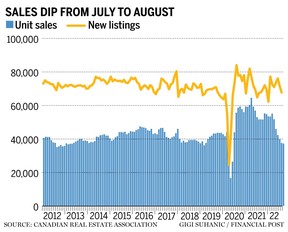 Despite the decline from last August, the actual national average price, which is heavily influenced by sales in Greater Vancouver and the GTA, inched up $7,702 over July.
Article content
While a nearly two per cent gain might be seen as encouraging by some, TD economist Rishi Sondhi wrote in a note to clients that it was mostly fuelled by a strong month in Toronto, where "it would be tough to argue that conditions have reached a turning point."
"For instance, sales are still 30 per cent below pre-pandemic levels in Toronto, supply/demand balances continue to favour buyers, and benchmark prices declined at a hefty two per cent monthly rate," Sondhi wrote.
Bank of Montreal economist Robert Kavcic said there appeared to be a window where some buyers could take advantage.
"Sales stabilized especially in the GTA and Ontario. They're still at very low levels, ones that you would typically see during a recession or at least a downturn. So, I don't think buyers are coming back in mass," Kavcic said in an interview.
Article content
"I think, because some buyers have seen house prices come down 10 or 20 per cent where they're looking and some buyers are still holding mortgage rate pre-approvals from a couple of months ago, before the Bank of Canada really cranked up interest rates. So they have a pretty good window right now to actually buy something."
Jill Oudil, chair of CREA, said that she believes that overall, buyers are still reluctant, despite some of the recent drops.
"August saw national sales hold steady month-to-month for the first time since February which, along with a stabilization of demand/supply conditions in many markets, could be an early sign that this year's sharp adjustment in housing markets across Canada may have mostly run its course," Oudil said in the report. "Some buyers may choose to remain on the sidelines until they see clearer signs of borrowing costs and prices also stabilizing."
Article content

Meanwhile, the Aggregate Composite MLS Home Price Index (HPI) edged down 1.6 per cent on a month-over-month basis in August, not a small decline historically, but smaller than those in June and July. The HPI was still up by 7.1 per cent on a year-over-year basis in August. This was the first single-digit increase in almost two years, as year-over-year comparisons have been winding down at a brisk pace from the near-30-per-cent year-over-year gains logged just six months ago.
"The bigger picture is that there is still an enormous interest rate shock to absorb," Kavcic said. He thinks that the price correction is going to be a slow, drawn-out process because there isn't any forced selling in the market.
"At the same time, if sellers do want to move a unit, buyers just simply can't qualify for and pay as much as they did six months ago. So if units are going to trade, they're going to have to be done at lower prices." Kavcic said.
Article content
CREA also released a report Thursday updating their previous projections of the resale housing market. The updated report forecasts that the national average home price will rise by 4.7 per cent to $720,255 by the end of 2022, down $42,131 from the $762,386 target it set in June .
Some 532,545 properties are forecasted to trade hands via Canadian MLS Systems in 2022 — a decline of 20 per cent from the 2021 annual record and fewer than the 568,288 projected in June. The downward revision was mainly the result of reduced activity in Ontario, along with smaller revisions in B.C., Alberta, and Quebec.
The group also scaled back its forecast for sales into 2023, when it now predicts 520,156 units will change hands, down from 552,403 projected in June.
• Email: shcampbell@postmedia.com