Higher qualifying rates will put homeownership further out of reach, say industry insiders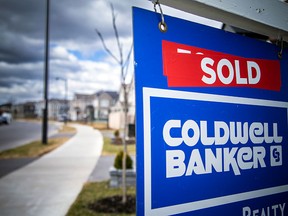 Article content
The Bank of Canada's move to hike its policy rate by 75 basis points Wednesday will be quickly noticed by variable-rate mortgage holders and those anxious to get off the homeownership sidelines, but if inflation persists and rates have to rise more quickly — something the central bank's chief acknowledged was a possibility — the effects are not likely to stop there.
Article content
Yesterday's move indicates the central bank is not letting up on its aggressive approach to tackling inflation, which eased in July to 7.6 per cent from 8.1 per cent in June and has made commercial banks and other financial institutions raise their mortgage rates in tandem with the Bank of Canada's policy rate.
Article content
The series of rapid interest rate increases this year has fuelled concerns that homeowners will eventually begin to have trouble handling their increased mortgage payments.
Based on the Canadian Real Estate Association's average home price of $629,971 in July, a variable rate of 4.45 per cent would result in monthly mortgage payments of roughly $2,787 assuming a 20 per cent down payment. Prior to today's hike, the same mortgage holder would have paid $2,577 per month.
Article content
Alex Leduc, CEO of Canadian mortgage rate and analytic website www.myperch.io, noted that the difference of $210 per month was "not super material" but that it could still affect the average homebuyer.
Others in the industry see the latest rate hike as a huge strain on Canadians.
"Another 75 bps sucks significant discretionary income from the pockets of floating-rate borrowers," said mortgage strategist Robert McLister in an email. "It also boosts the minimum mortgage stress test rate, which will dim housing sentiment further."
The topic of the stress test resurfaced recently after the Toronto Regional Real Estate Board called for OSFI to revisit its rules.
"I wouldn't bet on regulators blunting the stress test. The stress test is doing what it's supposed to do." McLister said. "Policymakers want to see higher-risk borrowers have higher qualifying hurdles as rates and unemployment rise. That's what protects the financial system best."
Article content
Christopher Alexander, president of RE/MAX Canada, however, said he thinks it's time to review it.
"Asking people to qualify at seven per cent now is going to negatively affect more people than even the government, I would think, wants to. I'm all for responsible lending practices — that's what got us through the financial crisis in 2008 — but the stress test is just putting too many people at a disadvantage considering how high interest rates are today," Alexander said.
Dan Eisner, CEO of True North Mortgage, predicts changes to the stress test won't take place until December, when the Bank of Canada's final 2022 interest rate announcement is set to occur. However, if the market fares the way he expects, the stress test might not budge at all.
Article content
"By now buyers realize what is happening. I don't think that this is the rate movement that turns buyers off more than they have been. It is quite the opposite," he said.
He said he believes buyers are becoming more confident now that one of the final rate hikes has been announced.
"I think a lot of the talk right now is that this is one of the final moves the Bank of Canada is going to make. They may not make another rate increase and in fact if they do it'll be a smaller one and so the five-year fixed rate might have plateaued and may not go any higher."
Eisner noted that until recently, 60 per cent of his clients were taking a variable rate. He predicts that after the most recent rate announcement, the most popular rate will become a five-year fixed.
Article content
"If you're a buyer out there, you arguably have a little bit more certainty with what is going to happen with your payments. We might actually see buyers saying, 'Well, at least I know what my borrowing costs are so now I can be a little more confident to go out and buy."
One thing that is certain is that there will be two more interest rate announcements coming out of the Bank of Canada this year.
James Laird, Co-CEO of Ratehub.ca and President of CanWise said that homeowners should expect rates to continue to rise, and not to get caught by surprise.
"Fixed-rate mortgage holders should budget for today's higher rates when their next renewal comes up," he said.
• Email: shcampbell@postmedia.com
Listen to Down to Business for in-depth discussions and insights into the latest in Canadian business, available wherever you get your podcasts. Check out the latest episode below: