In 2011, the idea of Smoothie Bombs came to life as an accidental invention designed to solve a fussy eater problem within Cinzia's home.
The founder of the Australian health-food company Smoothie Bombs, Melbourne small business owner Cinzia Cozzolino, is well-versed in the difficulties and rewards of managing a start-up. Cinzia was passionate about educating people about healthy eating at the time and had recently finished her degree in clinical nutrition, but she soon became aware of an issue in her own family.
Her youngest daughter Lana, who was 13 at the time, was a fussy eater, and despite Cinzia preaching about what was good for her, she only wanted to eat what looked and tasted good to her.
Eventually, Cinzia stumbled across the idea of sneaky smoothies. She figured out a way to disguise a superfood smoothie, which is usually quite bland, as a "chocolate smoothie" by adding a few extra ingredients – and suddenly, Lana was a fan.
What followed was the concept of a pre-portioned smoothie booster that became a hit with both Lana and her clients at the clinic, so Cinzia expanded to selling them in local cafes. Eventually, Cinzia chose to run the Smoothie Bombs business full-time, and Lana came on board as well.
Smoothie Bombs eventually gained a following of smoothie lovers across Australia and around the world in places like the USA, New Zealand, Singapore, Malaysia, UAE and Tahiti, now stocked on the shelves of well-known retail stores like Chemist Warehouse, Woolworths, Macy's and Anthropologie.
As someone who has been on the journey from creating pre-portioned smoothie boosters from her own home to stocking her product on the shelves of Chemist Warehouse and Woolworths, Cinzia told Dynamic Business a thing or two about what it takes to grow your business and the savvy tricks and tips that can save you money and time.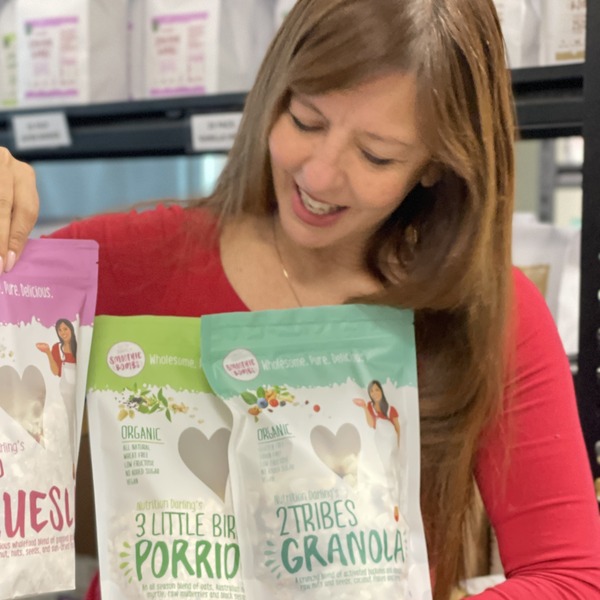 Source locally to avoid disappointment
"It goes without saying that recent years have unveiled a whole myriad of issues with importing from overseas. I learned the hard way when the packaging I ordered from China experienced huge delays due to global supply chain issues, which is something many people in the small business community can relate to. When you're working with larger stockists like supermarket chains, you can't afford to lose out on selling your product because of delays.
"That's why I always recommend partnering with a local manufacturer for peace of mind. I can easily pop down to ePac's facility in Coburg, Melbourne, to check out the progress of my flexible pouches and even request changes to the design on the fly without having to print thousands of pouches I'm not happy with – which is definitely something I'll be taking advantage of as I launch my new product range."
Back yourself, why settle for less?
"So often, I hear stories about small business owners who've settled for less than they needed simply because they didn't have the confidence to push back. When you're an up-and-comer, sometimes it can feel like you're not being taken seriously, especially by more heavyweight players who may try to pull the wool over your eyes, whether it be charging you exorbitant fees or asking you to wait far longer than the standard time frame.
"My experience has taught me that when I back myself and ask the hard questions, it pays off in spades. Instead of settling for less, find reliable partners and suppliers who believe in your business and back your new ventures. I'll certainly continue working with ePac to support my packaging needs as I trial new products to market."
Save smarter, not harder
"It's no secret that the cost of supplies has crept up in recent years and finding a way to balance this while maintaining the integrity of your product is not always an easy task for business owners," Cinzia said.
Cinzia didn't expect this whirlwind success, and as her small business grew from strength to strength, she needed a fast-paced, cost-effective packaging solution to keep up with the demand.
She enlisted the support of fellow Melbourne start-up ePac Flexible Packaging, which helped expedite customer orders thanks to breakthrough digital printing technology and onshore production, which turned around high-quality, bespoke flexible pouches for Smoothie Bombs in just three weeks, from design to shelf.
Now the mother and daughter duo behind Smoothie Bombs, Cinzia and Lana, are introducing a brand-new product offering to their beloved customers, with bright and bold new packaging to accompany it.
"I'm not one to make sacrifices on the quality of the ingredients and produce I put into my smoothie boosters, but I'm a big advocate for identifying unnecessary cost traps. Excess inventory is one of those cost traps – especially when it comes to minimum order requirements. So, I recruited the help of local Melbourne packaging manufacturer ePac Flexibles to help me produce smaller batches, quicker."
Visit ePac Flexible Packaging here.
Keep up to date with our stories on LinkedIn, Twitter, Facebook and Instagram.