Prices eased slightly to $531,800, down from $539,900 in July, but are still up more than 11% from last year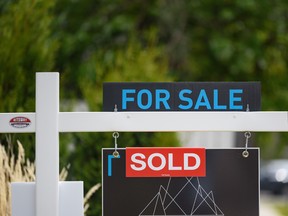 Article content
Detached and semi-detached home sales in Calgary declined for the third month in a row in August, amid higher interest rates and low inventory for lower-priced homes in those categories.
Article content
According to a report released Thursday by the Calgary Real Estate Board (CREB), benchmark prices eased slightly to $531,800, down from $539,900 in July. However, CREB said, "it is important to note that previous gains are not lost, and prices remain over 11 per cent higher than last year."
Article content
Ann-Marie Lurie, chief economist with CREB, said they've seen detached sales trend down from the high levels posted earlier in the year, when people wanted to get into the market ahead of interest rate hikes.
Detached home sales fell to 2,136 in August, 0.5 per cent lower than last year.
"But on a total basis we're actually not far off from where we were last year, which is a little different from some of the other Canadian cities. We're still performing better than we were pre-pandemic," Lurie said.
Article content
Lurie said it was not unexpected to see falling activity in the detached segment, the more expensive end of the market.
We're still performing better than we were pre-pandemic

Ann-Marie Lurie, chief economist, CREB
"What we're seeing happening is that some of that demand is shifting to the more affordable products," she said.
The average cost of a detached home in Calgary was $633,600 in August — nearly 13 per cent higher than the same time last year. However, that's a decrease from the $643,600 average detached home price in July. Meanwhile, semi-detached price levels are over 10 per cent higher than last year with a benchmark price of $569,300.
The average price for all homes was 11 per cent higher than last August.
In the semi-detached market, Calgary is still facing a supply shortage.
"There is just not any supply, so for people looking for affordable product, they are switching to some of the other affordable options," Lurie said.
Article content
Condominium prices remain relatively stable compared to July and remain more than 10 per cent above last year's levels. Despite the recent gains in prices, apartment condominium sales remain below peak prices set back in 2014.
Still, condos contributed to year-to-date record sales of 4,576 units, an increase of 65 per cent compared to last year.
Across the country, national home sales fell by 5.3 per cent in July on a month-over-month basis, according to a report released by the Canadian Real Estate Association (CREA). The average national home price in July was $629,971, compared to $665,850 in June.
Article content
Karen Fawcett, a Calgary area real estate agent, said she's noticed that the summer months have been slower than usual, something she attributed to pent-up demand for travel.
"People have left in droves to catch a plane to go somewhere because they couldn't for the last two years. So, I anticipate the market will pick up in September," she said.
She said she is still seeing demand from out-of-province buyers.
"What's happening in Calgary is that we're not as frenetic as we were. There's not as many multiple offers occurring as before. However, prices are holding," Fawcett said.
While the recent declines in sales for detached and semi-detached homes have not offset the strong gains reported earlier in the year, listings for lower-priced homes have declined. This is causing persistently tight conditions for homes priced below $500,000.
Lurie said she expects sales levels to continue to trend down city-wide into the second half of the year.
• Email: shcampbell@postmedia.com