Scams typically involve ruses aimed at conning prospective tenants into wiring money before seeing a unit in person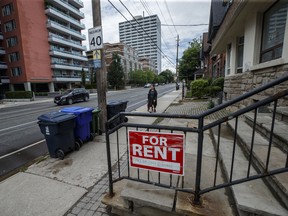 Article content
Rental scams are increasing in lockstep with surging rents, with international students among the most common victims, according to data from Liv Strategies Inc., a Vancouver-based rental platform.
Article content
The scams typically involve ruses aimed at conning prospective tenants into wiring money before seeing a unit in person. The perpetrators might dangle a below-market rate, but insist they can't meet in person. By the time would-be renters figure out the person with whom they've been corresponding isn't a landlord, they have already surrendered first- and last-month's rent. Foreign students, desperate to find places to live before arriving for the school year, have been particularly vulnerable.
Article content
"Current rental market conditions make a prime environment for scammers," Liv Strategies founder Olivia Lam said in an email. "International students coming to Canada present a 'trifecta' of risk factors: young students, newcomers to Canada and first-time renters. This demographic is typically less familiar with Canada's rental laws and a bit more desperate to find housing, on top of other stressors associated with moving to a new country."
Article content
Lam's company, which operates the website liv.rent, published a report earlier this month that found visits in June 2022 were up 47 per cent over June 2021.
However, listings flagged as suspicious also jumped to 2.8 per cent of all posts compared to 0.8 per cent a year ago.
"There is an urgent need for Canada's rental industry to take action to safeguard vulnerable renters," the report concluded.
There is an urgent need for Canada's rental industry to take action to safeguard vulnerable renters
For years, Canada's housing affordability crisis has been dominated by the cost of buying homes in the country's biggest cities. More recently, rental affordability has also sparked concern, as rising interest rates have deterred buyers, creating more competition for rental units, according to Ben Myers, president of Bullpen Research & Consulting.
Article content
Statistics Canada data for July shows that rent increased 4.9 per cent from a year earlier, compared with a 4.3-per-cent year-over-year increase in June. The Agency attributed the faster price growth in its rent index to accelerations in Ontario and Alberta. The website Rentals.ca, meanwhile, reported in August that its data showed Nova Scotia rents increased by 22 per cent while British Columbia and Ontario rose 15-16 per cent on a year-over-year basis in July.
The average condo rental price in the Greater Toronto Area, for example, hit a record high of $2,533 in the second quarter, according to Urbanation Inc. as demand continued to outstrip supply. British Columbia also experienced significant increases in average monthly rent for both one and two-bedroom condo units, at 23 per cent and 32 per cent, respectively.
Article content
Robert Patterson, a lawyer at the Tenant Resource & Advisory Centre (TRAC), a non-profit that provides renters in British Columbia with free legal advice, said a number of tenants have called with questions, wondering if they are being scammed and what they can do.
Hire someone to do a walk-through for you

Robert Patterson
"These scams are particularly targeted at people who are moving to a new city or a new community because those people often won't have a way to check out (the property) ahead of time," said Patterson, who advises renters in such a situation to make an extra effort to have a friend or family member investigate a listing on their behalf. "If not, there are so many apps and other platforms where you can hire people to do little odd jobs for you. But essentially, hire someone to do a walk-through for you."
Article content
For her part, Lam said honest landlords should make an effort to crowd out the scammers by providing identity verification, offering land title documents, or taking other steps that promote transparency.
Ryan Schwerdtner, managing director of rental website ViewIt.ca, said the company has been sending photographers out to shoot the properties rented on the site since its inception 21 years ago. When photographs are provided by the listing agent or landlord, the company's staffers have been trained to spot red flags, such as the use of obvious stock photographs, international phone numbers and offers that are too good to be true.
"Bottom line for tenants is that they should always meet a landlord," Schwerdtner said. "Visit the property, and be nervous of 'out of town' communication and 'lockbox keys' or not being able to talk on the phone. Not to mention people that are only interested in getting money/deposit and not spending any time vetting potential tenants and their references."
Article content
For renters who have fallen victim to a scam or think they are in the midst of being scammed, there are resources they can tap, though they come with some limitations.
The new national cybercrime and fraud reporting system (NCFRS) on the Royal Canadian Mounted Police website began pilot testing in March 2020 and will only accept up to 25 reports per day until it is fully operational, which the RCMP says is likely to happen in "2023-2024." In the meantime, the RCMP website says Canadians should continue to report cybercrimes and fraud to the Canadian Anti-Fraud Centre, which collects information on fraud and identity theft.
Article content
In Waterloo, police are investigating reports of a rental scam that has left three students out thousands of dollars and at least one with nowhere to live next month. Their experience comes following a slew of warnings by the Waterloo Regional Police Service, and as officers confirm they're "probing multiple reports of rental fraud in the university area this month." police said in a news release.
The University of Waterloo says it is aware of the situation and is doing what it can to help.
Several Canadian universities have dedicated landing pages to warn students of housing scams and offer tips for avoiding them. McMaster University's website also warn that the university does not "screen landlords or the properties."
"The real solution", said Patterson, "is solving the housing crisis because now everyone is so desperate to get a place that they are willing to put down money, sight unseen."

• Email: shcampbell@postmedia.com