What was a necessity for a retail tenant six months ago — click-and-collect, or home delivery — might not be as important now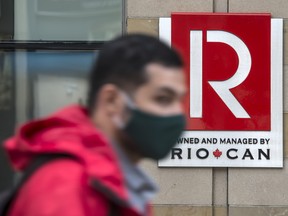 Article content
One of Canada's largest retail real estate players says it is taking active steps to help its tenants retool for post-pandemic life, as consumers revert to old habits and face new challenges from rising inflation.
Article content
"Consumers have fought to take back control of how they get their goods," RioCan Real Estate Investment Trust chief executive Jonathan Gitlin said in an interview Tuesday following the release of the company's second-quarter earnings. That has meant that what was a necessity for a retail tenant six months ago — click-and-collect, or home delivery — might not be as important now.
"They don't necessarily favour having goods delivered to their front door, and retailers have fully shifted to a model where customers come to their stores to pick up their goods," Gitlin said.
To that end, he said, the REIT has been working with tenants to re-adapt their properties for the new reality.
"We're helping our tenants evolve the space, whether it's by changing the way drive aisles are set up in the parking lots … or if it's changing the way loading works, or if it's changing the way signage works. We're doing things to help our tenants open up again and thrive," he said.
Article content
It's one of the tactics that has the company confident it can withstand any turbulence inflation might inflict on the retail sector.
"This (inflation) is a concern but will not, in our view, impact the long-term viability of our largest tenants as they have a long and strong track record and sizeable balance sheets," Gitlin said earlier Tuesday on a conference call with analysts.
We're doing things to help our tenants open up again and thrive

Jonathan Gitlin
RioCan reported second quarter net income of $78.5 million on Monday, down from $145.3 million in the same period a year ago, but saw revenues rise to $308.4 million from $297.7 million.
The company attributed the decline in net income in part to a loss of $42.3 million on the fair value of investment properties, as compared to a $22.9 million fair value gain during the same quarter last year.
Article content
Funds from operations also rose, totalling $131.7 million or 43 cents per diluted unit, up from $127.5 million or 40 cents per unit a year ago.
The trust said its occupancy rate for the quarter was 97.2 per cent, up from 96.1 per cent year-over-year, with the increase coming from an improving retail landscape over the past few months.
The company said many of it properties have what it calls "necessity-driven anchor retail tenants" — retailers such grocery stores, liquor stores, and pharmacies — that have shown an immunity to economic downturn.
While other businesses declared bankruptcy, reduced their footprints, and struggled to shift online, these tenants were mostly immune to pandemic shutdowns, and should prove resilient against inflation as well.
Article content
The fixed nature of its contracts and a tightening supply due to the limited number of retail spaces built over the last few years also work in its favour.
RioCan said it is experiencing "intense competition" for space and an upsurge in prices for their properties.
"If you look at the list of major retailers in Canada, be it Loblaw, Empire, Canadian Tire, Metro, they're all looking to expand store count right now," said John Ballantyne, RioCan's chief operating officer, on Tuesday's conference call.
Article content
"There has not been that much retail built over the last five years, and I doubt there will be a ton built over the last three, so we are definitely benefitting from that demand," he added.
Gitlin also addressed the current construction environment, saying it has been "inflationary" for many years. However, he said RioCan has ways to mitigate the increased costs as they expand or redevelop around their shopping centre properties, potentially delaying construction if conditions are not favourable while the centres remain open and provide income to unit holders.
RioCan shares closed up nearly two per cent at $21.03 in Toronto.
• Email: shcampbell@postmedia.com