Revenue totalled $308.4 million for the three-month period ended June 30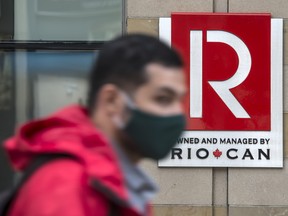 Article content
RioCan Real Estate Investment Trust reported second quarter net income of $78.5 million, down from $145.3 million in the same period a year ago, but saw revenues rise as occupancy rates ticked up.
Article content
In an earnings report released on Monday, the trust said revenue totalled $308.4 million for the three-month period ended June 30, up from $297.7 million in the year-ago quarter.
RioCan said same property net operating income (NOI) growth of 6.2 per cent helped the trust in the quarter.
The company attributed the decline in net income in part to a loss of $42.3 million on the fair value of investment properties, as compared to a $22.9 million fair value gain during the previous year.
At the same time, funds from operations totalled $131.7 million or 43 cents per diluted unit, up from $127.5 million or 40 cents per unit a year ago.
The trust said its occupancy rate for the quarter was 97.2 per cent, up from 96.1 per cent year-over-year, with the increase coming from improvements in retail over the past few months.
RioCan CEO Jonathan Gitlin said he and his team remained focused on their long-term strategy of creating value.
"As we enter into the second half of the year, we remain confident in our growth trajectory and the ongoing demand for the quality real estate," Gitlin said in a statement.
• Email: shcampbell@postmedia.com